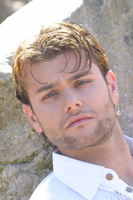 Ryan Oliver joined Body Transformers® Inc. after achieving personal success within the program. Ryan's health education and fitness background combined with a genuine passion for people enables him to relate successfully to clients while developing healthy, individualized fitness and meal plans. Currently, he is engaged in developmental studies and product innovation for Body Transformers® Inc. and concentrates on the business' media and sales.
Ryan is a licensed massage therapist who attended the Connecticut Center for Massage Therapy. He holds his certification from the National Certification Board for Therapeutic Massage and Bodywork and is a member of the American Massage Therapy Association.
In addition to his experience as a massage therapist, he has worked for the past four years as a certified personal trainer at Malibu Fitness and is certified by the World Instructor Training School. He is a highly motivated wellness professional who focuses on the integration of massage therapy, nutrition and physical fitness.
Ryan was featured in Men's Health, Best Life, a national health and fitness magazine in the June 2006 issue. The three-page article explained how he had "transformed" the health and life of a teenager. He has also been filmed by Fox 61 News, which featured his fitness skills and nutritional program creativity.